From the Editor
Hey folks– I want to introduce Kristina Kipp, PharmD. She will be joining the EMCrit team as our in-house PharmD. She is a Clinical Pharmacy Specialist in Emergency Medicine/Critical Care at Penn Medicine – Chester County Hospital. Kristina graduated with a PharmD from the Philadelphia College of Pharmacy.  She went on to complete 2 years of post graduate training at Thomas Jefferson University Hospital specializing in Cardiology and Critical Care.  Kristina currently practices at a community hospital of the University of Pennsylvania Health-System which is located 35 miles outside of Philadelphia, PA. Here is her first post–expect more great stuff in the future–EMCrit
I Have Issues with Andexanet
by Kristina Kipp, PharmD
The Emergency Medicine and Critical Care world has been waiting for the Xa reversal agent since the Factor Xa inhibitors, apixaban and rivaroxaban, came to the market.
Andexanet received both US Orphan Drug and FDA Breakthrough Therapy designations and was approved under the FDA's Accelerated Approval pathway. In the phase 2 trials, ANNEXA-R and ANNEXA-A, studied andexanet in healthy volunteers. The investigators found andexanet rapidly reversed anti-factor Xa activity, with a median decrease from baseline of 97% for rivaroxaban and 92% for apixaban. [2,3]
ANNEXA-4 evaluated andexanet in the management of hemorrhagic events among patients receiving apixaban or rivaroxaban.
ANNEXA-4: Andexanet Alfa for Acute Major Bleeding Associated with Factor Xa Inhibitors
Below are the main highlights of the trial [4]:
Ongoing, multicenter, prospective, open-label, single-group study.  Not a placebo-controlled trial. 
Included 67 patients from April 2015 to July 2016 who had acute major bleeding
Primary outcomes:

Percent change in the anti-Xa activity
Rate of excellent or good hemostatic efficacy 12 hours after the infusion.

Primary sites of bleeding: GI 33/67 (49%), intracranial 28/67 (42%), other bleeding sites in 6/67 (9%) which included a nose bleed…
All patients received a bolus followed by a 2-h infusion of the drug.
Mean (± SD) time from ED presentation to the administration bolus was 4.8 ± 1.8 hours. (what was everyone doing?).
Clinical hemostasis was evaluated 12 hours after the andexanet infusion, adjudicated as excellent or good in 37 of 47 patients in the efficacy analysis.
Anti-Xa activity re-elevated at 2 hours post-infusion.  When the infusion is discontinued, andexanet starts to dissociate from the Xa inhibitors resulting in the potential to inhibit FXa.
Thrombotic events occurred in 12/67 (18%)
During the 30-day follow-up, 15% of the patients died.
How it Works
Andexanet is a recombinant modified Factor Xa molecule that binds and sequesters the FXa inhibitors, rivaroxaban and apixaban.  In addition, Andexanet inhibits the activity of Tissue Factor Pathway Inhibitor (TFPI), increasing tissue factor-initiated thrombin generation.[1]
Andexanet has a rapid onset with a half-life of approximately 1 hour.[4]  The package insert states 5-7 hours.[1]  Based on the phase 2 trials demonstrating the change in anti-Factor Xa activity in healthy volunteers, in addition to the safety profile observed in ANNEXA-4, Andexanet received FDA approval on May 3, 2018.
But Does it Work?
When administered as a continuous infusion, andexanet will block the anticoagulants ability to inhibit FXa.  Andexanet decreases anti-Xa levels within 2-5 minutes.[3,4]  But does this positive change of an objective endpoint extrapolate to meaningful patient outcomes?
The reversal of anticoagulation with Andexanet persists for ~1 hour after the infusion is completed.[3,4]  At or around this time, the investigators found that the anti-Xa levels started to increase.  Since andexanet quickly dissipates from apixaban and rivaroxaban, this results in a rebound increase in anti-Xa activity from the unbound Xa inhibitors. [4]
If the patient has increasing anti-Xa levels post-infusion, will the patient end up bleeding again?
Let's review at a potential scenario that occurs in clinical practice-
A 78F with AF on rivaroxaban 20 mg daily that she has been prescribed for over a year.  She presents to the ED with a significant lower GI bleed that started 2 hours ago. The patient is hypotensive and found to have AKI with a CrCL < 30 mL/min. Based on the kinetics of rivaroxaban 20 mg, we can assume the patient has supratherapeutic levels of the anticoagulant due to her AKI and decreased urine output. With decreased UOP, rivaroxaban can accumulate resulting in delayed clearance of the drug from her system. If I start the andexanet infusion on arrival to the ED for her GI bleed and the last 20 mg dose was 3 hours ago, the patient will still have elevated serum concentrations of rivaroxaban after the 2 hour infusion is complete.  The andexanet infusion will halt anticoagulation, but the patient's ability to eliminate the drug is really what's key. So during the infusion, the anticoagulant is unable to block FXa allowing normal coagulation to occur.  Once I stop the drug in this patient, the rivaroxaban will likely start to inhibit FXa.
The Xa inhibitors are not "cleared" with this agent.  This differs from the mechanism of idarucizumab which binds and eliminates dabigatran.
Approved dosing is cumbersome [6] 
Below is the recommended dosing which is based on the specific anticoagulant, dose, and the last time it was taken.  Just throw a dart and see where is lands.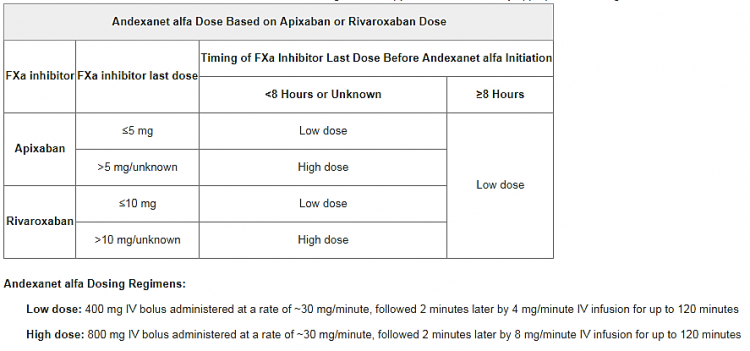 Price gouging
The published average wholesale price (AWP) is $3300 per 100 mg vial which is consistent with what Portola Pharmaceuticals previously quoted. [6]
Let's calculate the price of 1 dose using the AWP of $3300 per 100 mg vial.
1 dose = 900 or 1800 mg    →   each vial contains 100 mg
= 9 or 18 vials  (brilliant, lets spend 30 minutes drawing up 18 vials in a critical patient).
→ AWP $26,400 or $59,400 per DOSE
The actual price is probably ~20 % less, but this value provides a ballpark number. What justifies this price?
In current practice, Kcentra 50 units/kg is the recommended dosing for significant Xa bleeds.  The price various depending on the institution and patient population it serves. Kcentra costs approximately $1.41 per unit through my wholesaler.  If my patient weighs 100 kg, 1 dose of Kcentra = $7,050.
A single dose of andexanet costs more than Medicare reimbursement for an entire CABG admission with or without MCC at my hospital. How can a drug with no definitive outcomes data cost more than a cardiothoracic surgery?   Even if this drug reduces length of stay or prevents invasive procedures, I am still not convinced using this drug will be cost effective when looking at the overall picture.
Lastly, if the patient goes to the OR and continues to bleed during the surgical procedure, the surgeon or anesthesiologist may continue andexanet.  So the dollar amount keeps climbing.
Market access strategy limits accessibility
Portola Pharmaceuticals announced they would launch andexanet (AndexXa) under an Early Supply Program in June 2018 with a broader commercial launch in early 2019.  The CEO added his take on the process by stating: "due to limited supply in the first six months we will focus on a limited number of hospitals to get AndexXa to patients who need it most." [5]
Wait- only pre-selected hospitals can access andexanet because their patients need it the most?  Based on what?
What Now?
Many institutions have already reviewed andexanet for formulary addition.  I am uncertain how hospitals will approach using andexanet in clinical practice if the price is not dramatically reduced.  My institution reviews andexanet for formulary addition in July.
Main points to emphasize:
Does andexanet work?  Probably – its mechanism prevents Xa inhibition and allows for normal coagulation to occur.  Would I like to see it compared to placebo or Kcentra?  Yes, but since it received numerous designations by the FDA, comparative studies were not required to obtain approval. [7]
Anti-Xa activity re-elevated post infusion. [1]  Not surprising, it has a short half-life.  If your patient is unstable and still bleeding, do you continue the infusion?  Remember- andexanet does not facilitate clearance of Xa inhibitors.
Portola Pharmaceuticals, a fairly inexperienced biopharmaceutical company, overpriced their drug substantially to the point where hospitals will not be able to purchase it.
I am not checking anti-Xa levels in the ED to determine whether or not the patient receives andexanet.
Ultimately, until we have clinical experience using this agent and perform quality, comparative studies, we will not be able to determine if andexanet is more efficacious than the current standard of care (4-factor PCC).
In conclusion, despite the shareholder predictions, Andexanet will never be a "blockbuster drug" because the pricing strategy is not realistic.  How do you bring an outrageously expensive drug to the market without the robust outcomes data to justify its price?  Every patient case will be billed as an outlier.  Portola Pharmaceuticals is providing a disservice to the US healthcare system.  The patient who experiences the life-threatening bleed that is unable to access this drug is the one who pays the price the most.
Also See
References
Andexxa (andexanet alfa) [prescribing information]. South San Francisco, CA: Portola Pharmaceuticals, Inc; May 2018.
Connolly SJ, Milling TJ Jr, Eikelboom JW, Gibson CM, Curnutte JT, Gold A, et al. Andexanet alfa for acute major bleeding associated with factor Xa inhibitors. N Engl J Med 2016; 375:1131–1141.
Ghadimi K, Dombrowski KE, Levy JH, Welsby IJ. Andexanet alfa for the reversal of Factor Xa inhibitor related anticoagulation. Expert Rev Hematol 2016; 9: 115-22.
Siegal DM, Curnutte JT, Connolly SJ, et al. Andexanet alfa for the reversal of factor Xa inhibitor activity. N Engl J Med 2015; 373: 2413-24.
Portola Pharmaceuticals' CEO William Lis on Q3 2017 Results – Earnings Call Transcript. November 06, 2017. https://www.msn.com/en-us/money/companies/portola-pharmaceuticals-ptla-ceo-william-lis-on-q3-2017-results-earnings-call-transcript/ar-AAuwAuC. Assessed on May 31, 2018.
Lexi-comp: Andexanet alfa Prescribing Information. Last Updated 6/1/18. Assessed June 3, 2018.
FDA Approval Letter – ANDEXXA. May 3, 2018. https://www.fda.gov/downloads/BiologicsBloodVaccines/CellularGeneTherapyProducts/ApprovedProducts/UCM606693.pdf. Assessed on May 31, 2018.
Latest posts by Guest Author
(see all)